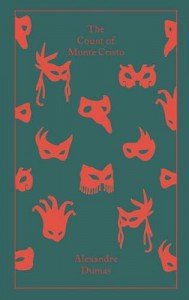 TITLE: The Count of Monte Cristo
AUTHOR: Alexandre Dumas
TRANSLATOR: Robin Buss
DATE PUBLISHED: originally 1844
(Penguin edition 2012)
FORMAT: Hardcover
EDITION: Penguin Classics (Clothbound),
complete and unabridged
ISBN-13: 9780141392462
_________________________
DESCRIPTION:
"Alexandre Dumas' classic novel of wrongful imprisonment, adventure and revenge.

Thrown in prison for a crime he has not committed, Edmond Dantès is confined to the grim fortress of the Château d'If. There he learns of a great hoard of treasure hidden on the Isle of Monte Cristo and becomes determined not only to escape but to unearth the treasure and use it to plot the destruction of the three men responsible for his incarceration.

A huge popular success when it was first serialized in the 1840s, Dumas was inspired by a real-life case of wrongful imprisonment when writing his epic tale of suffering and retribution."
_____________________________
REVIEW:
I don't have a very good relationship with classics. Most I find long-winded and tedious. However, the Count of Monte Cristo was rather enjoyable, not at all boring or overly verbose. The unabridged Robin Buss translation was excellent. This is a tale of revenge (the convoluted kind), but includes drama, intrigue, suspense, action, romance and some wonderful (and not so wonderful) characters. An entertaining reading experience that whizzed by when you consider the book is 1200+ pages.
________________________________
NOTE:
Which English Edition of the Count of Monte Cristo Should I Read?